Meet Gerry Warburg: Practitioner and Beloved Professor
Gerald Warburg, a Center for Effective Lawmaking Faculty Affiliate, is a seasoned Congressional practitioner who utilizes his breadth of experience to teach and lead the next generation. Currently, Warburg is a Professor of Practice of Public Policy at the Frank Batten School of Leadership and Public Policy at the University of Virginia. His research interests include the study of best practices by non-governmental organizations and the evolution of U.S. nuclear non-proliferation policies.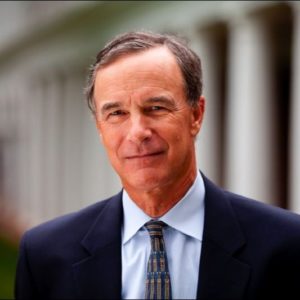 Warburg's professional background encompasses a broad array of public service. He served as Executive Vice President of Cassidy & Associates, a leading government relations firm. Prior to that position, he worked as a legislative assistant in the U.S. Senate and House of Representatives under Senate Whip Alan Cranston and Representative Jonathan Bingham. However, his public policy experiences extend well beyond simply being a researcher and professor beloved by students.
Warburg has been involved in politics and policy creation since his early 20s, when he fell in love with the accessibility and openness of Congress. As a young man from a public school in California, Warburg became enamored with the institution. It saw that it provided anyone with the willingness to speak up the ability to change the world and improve the lives of others.
Years later, Warburg still believes that the power of Congress is in its accessibility and that it has the immeasurable ability to improve lives. However, he does recognize Congress' faults and has great admiration for all efforts to make Congress more effective.
Warburg believes that efforts to make the legislative process more transparent and solutions more responsive to all voices are imperative goals. Accordingly, he was excited to join the Center for Effective Lawmaking, which seeks to address these goals and create an effective Congress in an entirely nonpartisan manner.
Currently, Warburg is interested in congressional accountability in United States foreign policy. Warburg's impetus for his research stems from similarities he identifies between the 1970s and today.
Following President Nixon's impeachment trial, Congress instituted numerous reforms to curtail the "imperial presidency" and reinforce Article I powers and Congress' accountability in foreign policy. However, Warburg believes that Congress has gradually ceded this authority back to the executive branch through the growing reliance on appropriation committees over authorization committees. Through his research, Warburg hopes to identify the causes of this transfer of power and ways in which Congress can reverse this transfer, reclaiming its Constitutional power and increasing its overall effectiveness. 
In addition to this impactful research and years as a practitioner of public policy, Warburg still prefers the title of "Professor" over all else, and finds his greatest enjoyment working with and spending time with his students.
To quote the Professor: "My favorite part about research and teaching is the time spent with students in office hours and looking at the future leaders of our country. From PTA to NSC they will accept the responsibility and use their education to fulfill Thomas Jefferson's vision of leadership and American democracy."