Introducing our 2021 Summer Intern
We are excited once again this year to offer a summer internship program at the Center for Effective Lawmaking.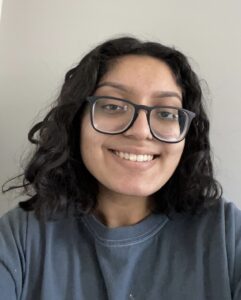 Shanthi Ashok is a rising junior at Oakton High School in Fairfax, Virginia. She is the Founder and President of her school's People of Color (POC) Coalition, a Fairfax County Public Schools (FCPS) Student Equity Ambassador Leader, and Co-Founder and Co-President of Prep Leaders, an after-school tutoring, leadership, and career readiness program for FCPS elementary and middle schoolers (aiming to bridge academic income-based achievement gaps). Shanthi's notable political advocacy in her community primarily focuses on racial justice and socio-economic equality. In parallel, she plans to pursue a double major in political science and economics when she enters college in the fall of 2023, and eventually enroll in law school.
Shanthi started interning with the Center for Effective Lawmaking in June of 2021. Her motivation for interning with the Center derived from her interest in the Center's unique mission, which presents the intersection of legislative affairs/politics, technology, and constituent services. She has always held a passion for the humanities and law, but greatly values more formulated pathways. The Center's combination of these two aspects through its methodology of using technical code to compile data available to the public caters an interesting exploration into Shanthi's current interests and future career path.
Presently, Shanthi is working on advancing the Center's issue area reports on the top lawmakers of each identified category of legislation. Most recently, Shanthi researched information on the top international affairs lawmakers of the 116th Congress. Throughout this process, she expanded her understanding of the inner-workings of Congress, as well as the considerable value of bipartisanship in politics. As an avid debater, Shanthi is often exposed to contrasting perspectives on the legislative approaches to our nation's issues.
Through her debate experience, Shanthi has learned that bipartisanship and civic engagement go hand-in-hand when solving such issues. This ideal contributes to one of her fundamental goals as a political advocate in her community; she wants to shift the conversation of bipartisanship away from compromise and towards collective cooperation towards one goal.
As partisanship in the United States continues to increase with younger generations, tendentious information on legislators becomes more readily available. For youth, it is important to gain a holistic view of current affairs to harvest educated viewpoints on political actions. Shanthi found it particularly difficult to find this integrated information on legislators. Thus, she views the Center's data to be one of the few sources providing such information with great detail on each legislator's weaker and stronger issue areas. To advance her mission of increasing youth political awareness through transparent reports, Shanthi was eager to join the Center's effort to Build a Better Congress.
Shanthi perceives effective legislation as the first step towards a more unified and perfect union.
Legislative effectiveness is a widely-shared goal among lawmakers; but the process to achieving such a goal is not well understood. The conversation surrounding legislative effectiveness is often regarded as a partisan issue for legislators themselves to solve. However, Shanthi perceives the first step towards the goal of a more perfect union is through direct discussion between elected officials and their constituents (no matter their party affiliation). The Center's nonpartisan, straightforward, and detailed data in each issue area the United States is facing holds legislators to their promises and goals for their constituents. She believes the Center's data and services provide a great leap toward political progression for legislators to realize their stronger and weaker impacts on our nation. Realization of one's areas of improvement is the first step toward bridging the gap in understanding and communication for constituents and their legislators. In order to Build a Better Congress, constituents and legislators must work together in navigating the ever-expanding conversation on legislative effectiveness.