CEL presents to LEGIS Congressional Fellows
On March 24, the Center for Effective Lawmaking (CEL) gave a presentation to the LEGIS Congressional Fellowship program at the Brookings Institution in Washington, D.C. The LEGIS program is composed of a bipartisan group of professionals from government agencies selected by offices in both chambers of Congress to learn about the lawmaking process and serve as subject-matter policy experts for legislators. CEL Co-Directors Craig Volden and Alan Wiseman started the presentation by highlighting the Legislative Effectiveness Scores, or LES (recently updated for the 117th Congress) to show how individual members were scored in terms of their ability to move legislation. They then expounded upon their findings of how to promote effective lawmaking, using the principles outlined in the CEL's New Member Guide. The presentation was divided into two sessions, with the first focused on how offices DEFINE their lawmaking agendas. This mnemonic refers to the individual attributes that lawmakers should internalize when crafting their legislative agenda: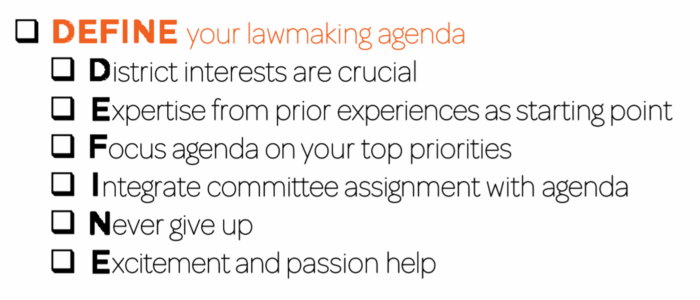 This concluded with a breakout session, where the LEGIS fellows split into groups where they were asked "To what extent are the proposals you seek to advance aligned for success?" and "What to do if not?" This allowed the fellows to talk about their personal experiences working in their respective offices, the challenges they faced, and what could be improved to enhance their goals.
The second session revolved around another mnemonic: ENGAGE. This refers to how lawmakers and their offices need to connect with partners to push their legislative agendas forward: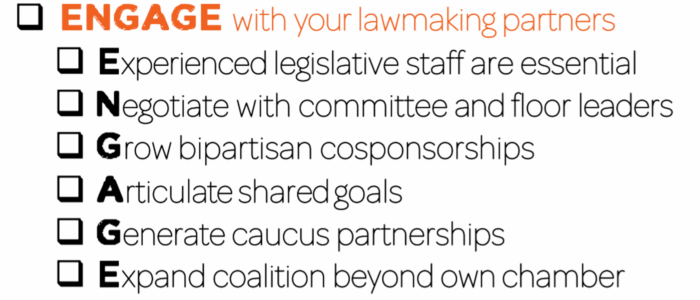 The presentation ended with another breakout session, where participants were asked "Which potential partners have been most difficult to ENGAGE with on top lawmaking priorities?" and "What to do now?" Once again, the fellows could speak from their personal experiences about what could be done to enhance stakeholder engagement.
During and after these sessions, the fellows asked a variety of important questions about the research done on the legislative process, such as why certain lawmakers performed so well on the LES, how this work applies to other governments around the world, and how best to engage with particular stakeholders. This input provided the Co-Directors with specific ideas and experiences that can enhance the work of the CEL moving forward.
The CEL is grateful for the opportunity to present to this distinguished group and looks forward to learning about their progress in the future.