CEL Briefing with the Congress's "Problem Solvers"
The co-directors of the Center for Effective Lawmaking (CEL), Professors Craig Volden and Alan Wiseman (of the University of Virginia Frank Batten School of Leadership and Public Policy, and Vanderbilt University Department of Political Science, respectively), visited the U.S. Capitol Building this week to conduct a briefing with the legislative staff of members of the congressional Problem Solvers Caucus.  The caucus defines itself as "a bipartisan group of Members of Congress organized to get to 'yes' to help solve some of our country's most pressing challenges."
We engaged the staff on a number of issues, including the history of the CEL, the methodology used in determining our Legislative Effectiveness Scores, the bi-annual report ranking representatives and senators that has become a reputable gauge for the public and the media.
Volden and Wiseman also discussed the guidance the CEL provides to newly elected members of Congress, the Office Hours program that offers individual offices customized analysis, and examples of suggested institutional reforms.  Additionally, the CEL co-directors had back and forth exchanges with the staff on how effective their members were in enacting their policies and what obstacles they faced.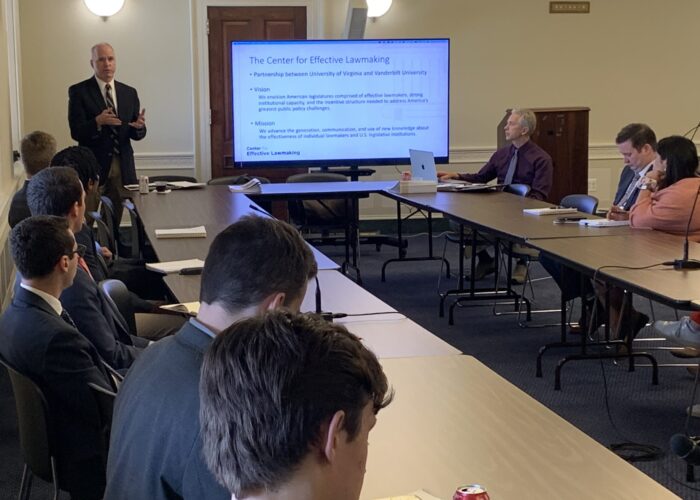 The co-directors started their discussion by focusing on the different types of legislation and how some bills were weighed more heavily than others in the Legislative Effectiveness Scores; for instance, sponsoring commemorative bills (i.e., renaming a post office) do not add to individual's score as much as more substantive bills. 
The discussion advanced into the key points of crafting a lawmaking agenda, namely the intersection and importance of district interests, the role of prior experience of the member, focusing on priorities, integrating their committee assignments, and persistence in achieving their legislative goals. Other key characteristics for legislative success discerned through our research that were mentioned included the importance and correlation of having experienced staff, as well as working across the political party aisle to get legislative goals accomplished. 
Co-directors Alan Wiseman (far left) and Craig Volden (far right)
The discussion aligned with the work and mission of the Problem Solvers Caucus, as it demonstrated the value in building coalitions based on common interests, regardless of party identification, for successful passage of legislative initiatives.
The CEL was honored to demonstrate our fact-based research to the Problem Solvers Caucus, and we believe it will serve them well in producing successful legislative outcomes. We look forward to collaborating with the group in the future.